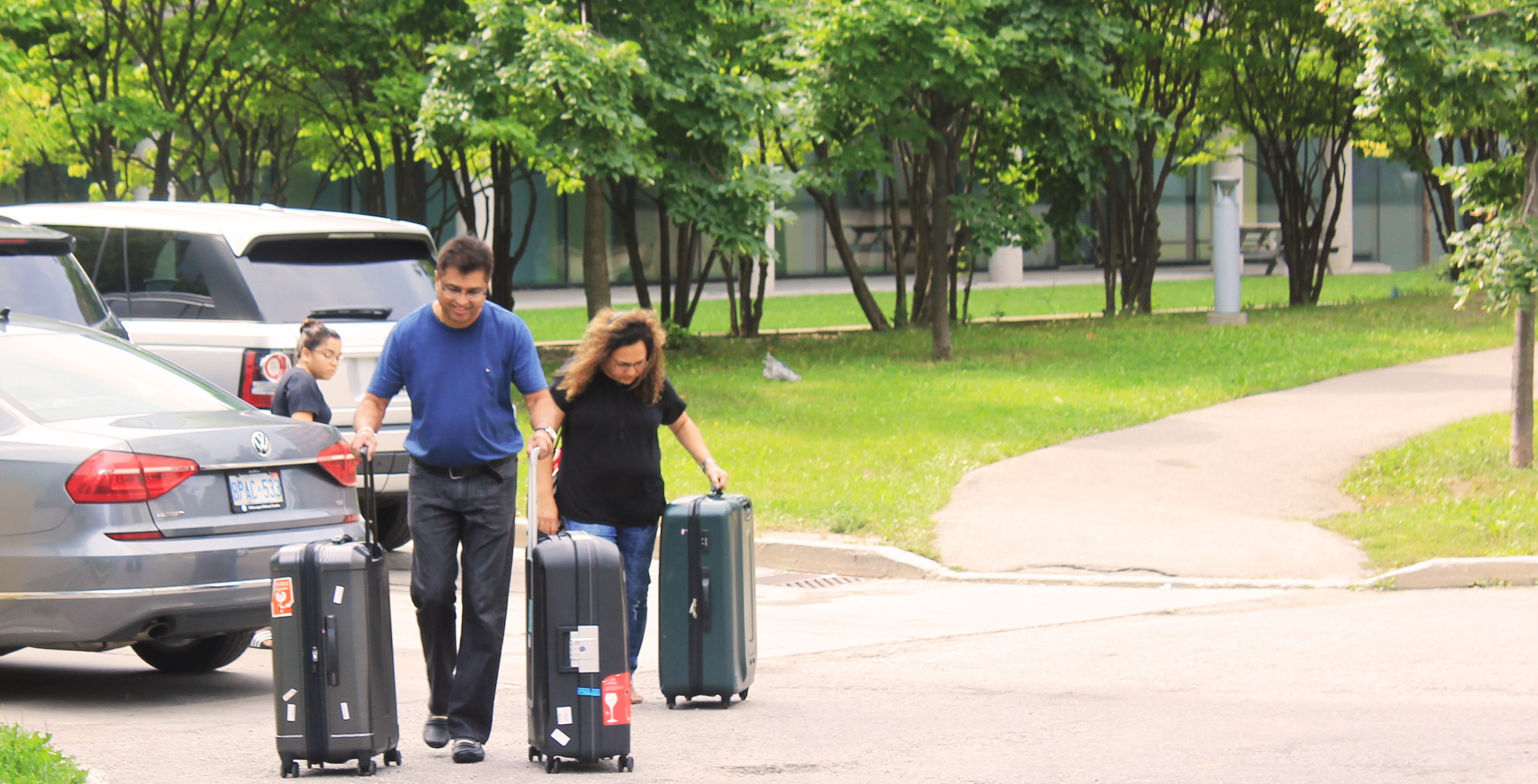 As you prepare to vacate your apartment, please refer to the terms of your Residential Tenancy Agreement and your responsibilities outlined below which must be fulfilled before you leave.
As per York Apartments Residential Tenancy Agreement:
15. Termination by Resident
The Resident acknowledges that the Resident must give at least sixty (60) days written notice of intention to vacate the apartment and end the Tenancy Agreement. The date of termination shall be on the last day of a rental period (last day of the month). Notice is to be mailed or hand delivered by the Resident to the Housing & Conference Services Office and must be confirmed by both Resident and Landlord signing a Form N11, Agreement to Terminate a Tenancy.
Download the Agreement to Terminate a Tenancy, Form N11. Please print, sign and submit form via email to apstatus@yorku.ca.

A Housing & Conference Services staff member will inspect the condition of your apartment before and after you move out. You will be notified of the pre-inspection at least 24 hours in advance but typically within one week of your move-out date. We expect to find reasonable wear and tear. Damage and excessive dirt do not constitute wear and tear.
You will be charged for any missing furniture and/or damages to carpets, walls or any other surfaces and University-owned contents. Additionally, you must clean your apartment before you vacate and attend to these specific items:
Clean the refrigerator and remove all the food; Do not unplug the refrigerator.

Clean the oven and stove top; move the fridge and stove away and clean behind and under the appliance. Heavy duty cleaners such as Easy-Off are recommended. Be careful not to get oven cleaner on the tile floor – it will stain and may result in charges to your account for tile replacement. Refer to product information on the container.

Clean all grease build-up on kitchen floors, walls, counter and cupboards inside out.

Clean all bathroom fixtures.

Close all windows and ensure all water taps and lights are turned off.

Remove all your personal belongings from the apartment.


Deposit all garbage down the chute or take it to the compactor room on the main floor.

Passy residents should take their household garbage to the garbage bins located on the South side of Passy sidewalk.

Dispose of all recycling into the bins provided outside each apartment building.

If you have a storage locker - clear out all belongings.

If you have any items for donation, please place them in the Oasis bin located at Passy sidewalk and do not leave them in the hallways or lobby area.

If you have any broken items that you do not wish to keep, bring them to the loading dock garbage room area. For Passy residents, please bring them to the garbage bin area on the sidewalk.

Return all keys/keycards you were issued (i.e. apartment, building entrance, mail and locker keys).
| | |
| --- | --- |
| Cleaning Charges | Repair/Replacement Charges |
Floors

$50.00

Carpet Stains/Holes

$200.00 and up

Toilet

$10.00

Paintings/Holes




(per wall)

$25.00 and up




Sink/Vanity

$10.00

Tub/Surround

$15.00

Oven/Stove

$50.00

Mattress

$125.00 and up

Fridge

$15.00

Sofa

$150.00 and up

Cupboards

$10.00

Chair (each)

$130.00 and up

Cabinet Doors

$15.00

Table (each)

$180.00 and up

Walls (per room)

$20.00

Disposal of Garbage & Personal Belongings

$50.00

Sofa

$50.00

Chair (each)

$25.00

Table (each)

$25.00
Note: Actual charges will be determined upon apartment assessment. Any/all applicable damage and cleaning charges will be invoiced to your Student Account and it will be your responsibility to pay any outstanding debt on your account even if you are no longer enrolled.
You must terminate your phone and cable services directly with your service provider as per your agreement with your provider prior to your move-out date. This includes any services subscribed through York's InRes Service, as your student account will continue to be charged until you request to terminate these services. Please visit the InRes Service website for more information.
Housing & Conference Services will not contact InRes Services or external service providers to request or cancel services. Residents must contact InRes or other service providers directly.
Empty all mail boxes.

Update your forwarding address through the Registrar's Office and click on "Change My Profile".

Contact Canada Post in advance to forward your mail to your new address. You will not be allowed access to your mailbox after you vacate your apartment.
Contact the Housing Office Front Desk if you need to book an elevator key for your move-out. Our office hours are 8:30am to 4:30pm from Monday to Friday except statutory holidays. If you are moving out on the weekend and wish to book an elevator, you must contact Housing & Conference Services during office hours to submit a request, and a Housing & Conference Services staff member will be arranged to operate the elevator on the weekend. The elevator will be available for use between 8:30am and 4:30pm on weekend(s) with reservation.
Do not hold the elevator doors open as this could result in mechanical failure.
Please place your keys in an envelope that is clearly marked with your name, apartment number, a forwarding address and telephone number or email address, if available. Place the envelope in the mail slot in the east entrance door of 340 Assiniboine Road. All keys must be returned. If any keys are not received by the next business day after your departure date, associated charges will be invoiced to your Student Account.
We hope your stay at York University Apartments was a pleasant one and we wish you all the best in your future endeavors!
Note: Housing & Conference Services strives to ensure the completeness and accuracy of information contained on this website, however, we reserve the right to change any of the information at any time without notice.