Pour la version française, cliquez ici.
The health and safety of our residents is a priority for Housing & Conference Services. We are pleased to introduce Residence Clean Care, a program designed to elevate cleaning practices in residence. The program has three primary objectives:
Elevate cleaning and sanitization in all areas and on all high touch point surfaces. Learn more here.
Ensure a safe environment for residents and building operations personnel. Learn more here.
Educate residents about cleaning and hygiene practices. Learn more here.
By working together, we can ensure that our residence community is safe, clean, and healthy. If you notice an area that needs attention, please contact us.
---
Elevated Cleaning
Community Bathrooms
To ensure proper physical distancing and facilitate contact tracing, residents will be assigned a bathroom space upon move-in. Each resident will share a toilet and shower with one other resident from their house.
Community bathrooms will undergo daily cleaning that will involve sanitizing all surfaces and replenishing product. Sanitization of all high touch point surfaces will happen throughout the day as part of the cleaning schedule.
To ensure a thorough cleaning, scheduled cleaning times will be posted for each bathroom. During the scheduled cleaning time, the bathroom will be closed, and residents will be asked to plan accordingly or use an alternate toilet if necessary.
Shared Community Spaces
Kitchens, kitchenettes, study rooms, lounges, and laundry rooms will undergo daily cleaning and sanitization. To ensure a thorough cleaning, scheduled cleaning times will be posted for each community space.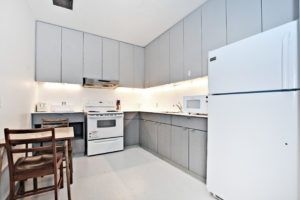 During the scheduled cleaning time, the community space may be closed to ensure proper physical distancing is maintained between building operations personnel and residents.
Hand sanitization stations have been installed throughout residences and residents are encouraged to sanitize their hands when transitioning from community spaces. Entrances and elevators will be sanitized multiple times a day.
---
Safe Environment
Building Operations personnel will wear appropriate personal protective equipment (PPE) throughout their shift. To ensure physical distancing, spaces may be closed to allow for proper cleaning and sanitization.
Regular maintenance requests can be submitted online. If a residence maintenance technician is required to visit your room, an appointment will be scheduled. You will also receive information about what is required prior and during the maintenance visit. Priority or urgent maintenance requests, such as flooding, should be reported to your Don on Duty (DoD) and/or security immediately.
---
Resident Responsibilities and Resources
Hand sanitization stations have been installed in residences. Residents are strongly encouraged to sanitize and/or wash their hands as they transition throughout spaces in residence.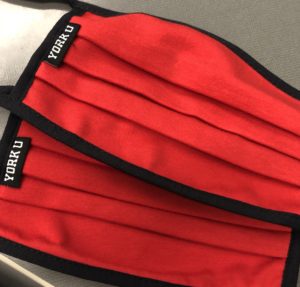 Non-medical mouth and nose coverings are mandatory, when maintaining two meters of physical distance is not possible or predictable, in common and shared spaces within all campus buildings. Spaces include, but are not limited to, academic buildings including classrooms, administrative buildings, meeting rooms, common areas in all residences, laundry facilities, washrooms, corridors, and elevators.
York University will provide non-medical mouth and nose coverings to all students who are required to be on campus. When worn properly, a person wearing a non-medical mouth and nose covering can reduce the spread of their own infectious respiratory droplets.
Residents must observe all signage in residents that outline physical distancing requirements, space capacity, directional guides, and hygiene etiquette.
Clean Care packages will be provided upon move-in and will include hand sanitizer and important information about maintaining a clean space and practicing proper hygiene. Additional cleaning products are available in residence and for purchase through the HealthBot vending machine located in "La Station" inside York Hall.
For a list of resources, please visit the YU Better Together website.
---
Contact Us
Please contact Glendon Housing Services if you have questions or would like to report an area of residence that needs attention. Our office is open Monday through Friday from 8:30am to 4:30pm.
Email: glendon@yorku.ca
Phone: 416-487-6844
Web: Online Maintenance Request | Social Media
To report an urgent maintenance request after-hours, please click here.