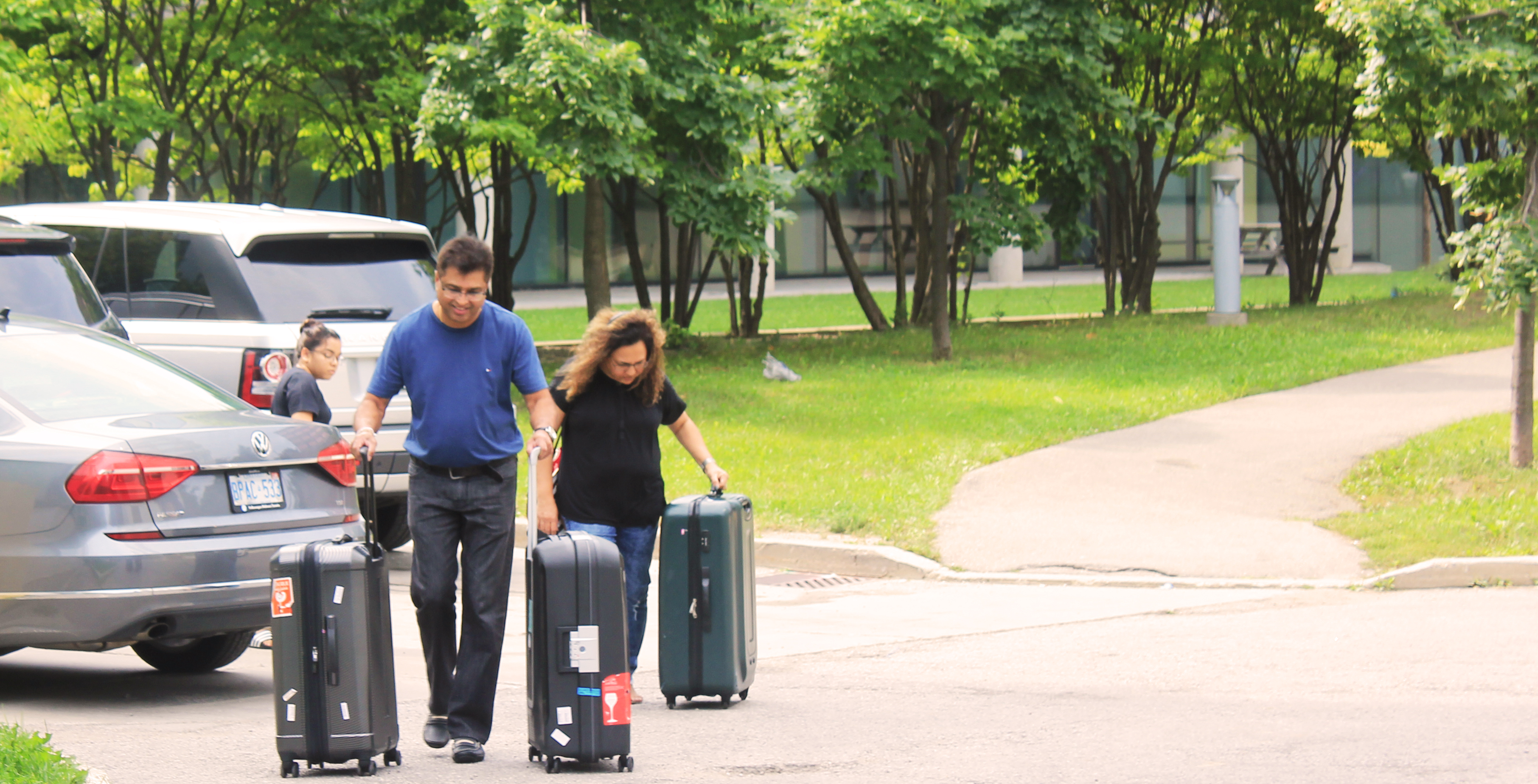 We hope that you have enjoyed your stay.
As you begin preparing yourself to leave residence, we ask that you please read the following move-out information carefully to ensure compliance of the 2018-2019 Undergraduate Residence Occupancy Agreement.
Residents will be required to vacate residence 24 hours after their final class/exam and no later than 12:00pm (noon) on Sunday, April 21st, 2019 - whichever event occurs first.

Personal Items
York University's Housing Services is not responsible for any personal items left behind after residents move-out.
These items will be considered abandoned and will be disposed of.
Residents may also be charged applicable removal costs for abandoned items.
Storage
York University's Housing Services does not provide storage space for returning residents' personal items.
Returning residents who wish to store their personal items should make arrangements with off-campus storage vendors.

Inspections
York University's Housing Services Staff will conduct a move-out inspection based on the Room Inventory and Condition Report completed during move-in.
Residents are responsible for ensuring their room and common areas are left in pre move-in condition. Furniture replacement, furnishings replacement, or damage and cleaning fees may be assessed and applied.

Residents will be charged for any cleaning, missing items/furniture, or damages that were not reported during move-in.
Any applicable cleaning and damage charges, non-returned keys, and late move-out fees will be posted as of June 1st, 2019.
It is the responsibility of the resident to review their accounts for any outstanding charges following their move-out period. Failure to pay posted charges will result in a block that will prevent residents from enrolment in York University's courses and graduation.

How to Avoid Damage and Cleaning Charges - Checklist

To avoid incurring move-out charges, below is a quick checklist that can be used to assist you during your move-out.
Dispose of all garbage and recycling materials, including food stored in fridges, freezers and cupboards.

Empty garbage and recycling bins.

Your room's recycling bin is the property of York University's Housing Services, please ensure that it is left in your room/suite. A fee will be assessed to your Student Account for missing recycling bin.

Vacuum the room/suite.

Return all residence furnishing to its original setting.

Check all drawers and closets and remove all personal belongings.

Remove any posters, artwork and tape/hooks from all surfaces in your room/suite.

Suite bathrooms (as applicable): clean tub, showers, toilet, and sinks.

Close and lock all windows, as well as your room/suite door.

Turn off radiator and lights.

On move-out day, make sure that your mailbox is emptied before returning your keys.
Carpet Stains/Holes

$200.00 and up

Paintings/Holes
(per wall)
$25.00 and up


Mattress

$125.00 and up

Sofa

$150.00 and up

Chair (each)

$130.00 and up

Table (each)

$180.00 and up

Disposal of Garbage & Personal Belongings

$50.00 and up


Cleaning Charges

$ 50. 00 and up

Garbage Disposal Charges

$ 50. 00 and up
Disclaimer: each unit/suite will be assessed individually and applicable repair fees will be determined upon a move-out inspection. Any/all applicable damage and cleaning charges will be invoiced to your Student Account.

Exam Period Policies
Extended quiet hours for exams will begin on Wednesday, April 3rd, 2019 at 11:00pm. Please be respectful of your fellow residents to create an environment that is conducive to study. Contact the Don On Duty if you experience any noise disturbances.
Commencing Wednesday, April 3rd, 2019, residents' guest privileges will be limited to one guest at a time. Guests who cause any issues will be asked to leave immediately and the host's guest privileges may be revoked.
Mail Delivery Information
The last day for mail delivery to the residence buildings will be Thursday, April 18th, 2019. After which, Housing Services will no longer be accepting mails and packages on your behalf.
Please ensure that you empty your mailbox before leaving residence. Any mail or packages received after move-out will be returned to sender. Mail will be held at the York Mailing Service for approximately 2 weeks after the final delivery date before returning your mail to sender.
Canada Post does not recognize change of address requests from universities and residence mail cannot be re-directed. Please contact York Mailing Service for clarification (416-736-5572).
It is your responsibility to notify your correspondents about change of address to ensure you receive your mail after move-out. This includes agencies (e.g. for income tax returns, GST cheques, etc.) and York University Departments.
To update your mailing address, please do so through the Registrar's Office by changing your mailing address on your "Change My Profile" page.

If you are moving to Winters Residence for the summer, arrange for your mail to be addressed to:
Your Name, Summer Residence 2019
York University, 4700 Keele Street
Toronto, Ontario M3J 1P3
If you are moving to York Apartments (Assiniboine, Atkinson, Passy), promptly notify senders of your new address, since York Apartments mail is serviced externally by Canada Post, it will not be automatically redirected by the York Postal Service.
On move-out day, please return your residence keys and key-card to your respective Housing Office.
Complex 1- Founders, Vanier, Tatham & Winters Residences
108 McLaughlin College
Monday to Friday (excluding statutory holidays), 8:30am - 4:30pm
Complex 2 - Bethune, Calumet & Stong Residences
101 Bethune College
Monday to Friday (excluding statutory holidays), 8:30am - 4:30pm
Pond Residence
Pond Front Desk
Monday to Friday (excluding statutory holidays), 10:00am -3:00pm

Atkinson Suites
York Apartments Front Desk
Suite 101-340 Assiniboine Road
Monday to Friday (excluding statutory holidays), 8:30am - 7:00pm
Moving Out After Office Hours
If you are vacating your room after office hours, please place all of your residence issued keys and key-card together in a sealed envelope labeled with your name and room number. Then, deposit your sealed envelope in the drop box of your respective Housing Office.
Please do not leave your room key in the room after move-out or provide your keys to someone to return on your behalf.

Delays in the return or reporting of a lost key may result in fees that will be posted and charged to your student account.
As per the 2018-2019 Residence Occupancy Agreement, all residents must vacate 24 hours after their final class or exam and no later than April 21st, 2019 at noon (whichever event occurs first).
If you have extenuating circumstances that would prevent you from vacating residence 24 hours after your final class or exam but you will be leaving no later than Sunday, April 21st, 2019 at noon, please submit an extension request to your Residence Life Coordinator no later than 12:00pm on Thursday, April 4th, 2019.
Visit the Residence Life Move-out Information page to complete an Online Extension Request Form.
Closer to the move-out period, Residence Dons will review key move-out information and perform periodic checks to ensure residents follow their contractual obligations and adhere to their move-out date. Residents are required to move out on time in accordance to the 2018-2020 Undergraduate Residence Occupancy Agreement.
Housing Services reserves the right to change locks at a cost of $100 per lock which will be charged to your Student Account.

Please note that:
Late move-out requests submitted after the deadline may not be accepted.

Requests will be reviewed case by case, and approval is not guaranteed.

If you wish to apply for Summer Residence (Winters Residence), applications are currently being accepted through York University's Housing website.

Residents with history of infractions against residence policies may be denied an extension.

Residents that are granted extension permission and violate the Community Standards will have their rights to stay revoked and will be asked to vacate immediately.
If you are looking for temporary accommodation beyond April 21st, 2019, please consider hotels near York University's Keele Campus for your convenience.
If you have any questions or concerns, please do not hesitate to contact Housing Services at undergradres@yorku.ca.

Residents who have been offered Summer Residence will be contacted by Housing Services about their specific moving date and procedures by April 21st 2019.
Residents who are transferring to the York Apartments are required to contact apstatus@yorku.ca to arrange for a move-in day.
Thank you for choosing Residence at York University. We hope you have a safe and enjoyable summer!
Note: Housing Services strives to ensure the completeness and accuracy of information contained on this website, however, we reserve the right to change any of the information at any time without notice.